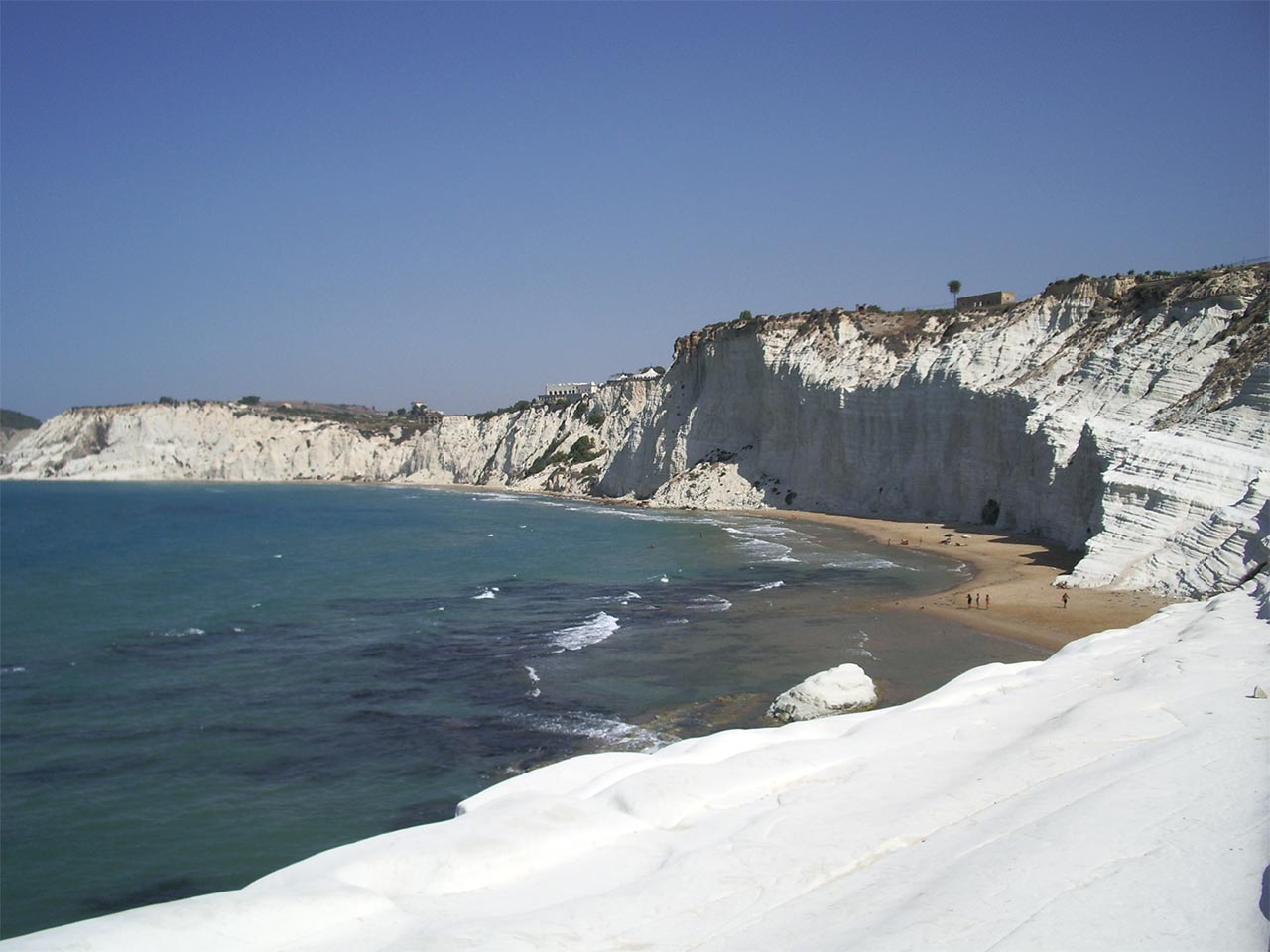 Similar to a white ship stranded, sculpted over the centuries by wind and rain, the white limestone resembles large steps that rise from the sea to the sky. For these characteristics, the place is among the most suggestive, surreal and unique in Sicily.
The coast, starting from Porto Empedocle , which forms the coast of Agrigento, runs sheer to the sea and is characterized by many coves with golden beaches that are difficult to reach but not impossible.
The Scala dei Turchi is a rocky wall (cliff) that rises above the sea along the coast of Realmonte, near Porto Empedocle. The Steps are made up of marl, a sedimentary rock of calcareous and clayey nature, having a characteristic pure white color. In August 2007, an official request was presented to UNESCO by the Municipality of Realmonte for this geological site, together with the Villa Aurea (from Roman times), to be included in the organization's World Heritage List of the UN, since the area has the three requisites necessary for such importance.
The name of the Scala dei Turchi comes from its natural shape and from the scene of piracy attacks, by Arab populations generically called "Turks" who, according to the legend, moored their ships in the waters of the Scala which represented a less windswept and protected coastal surveillance.
From there they climbed between the inlets of the cliff, reached the top and plundered everything from neighboring villages. It is said that the Turks ended their forays into the Scala, after clashing with the population of today's Porto Empedocle. Hence the dialect exclamation "Cu piglia un turcu è so" (who grabs a Turk gets to keep them) originated.
In addition to the singular shape, the white colour, the landscape and the Sicilian sea, the Scala dei Turchi also owes its popularity to the novels by Andrea Camilleri of Commissioner Montalbano, in which many of these places are mentioned (nearby is the imaginary town of the commissioner, Vigata).